GoromiE Ver 0.1 or Goromi-Web or (Goromi-TV)

2007/6/23

---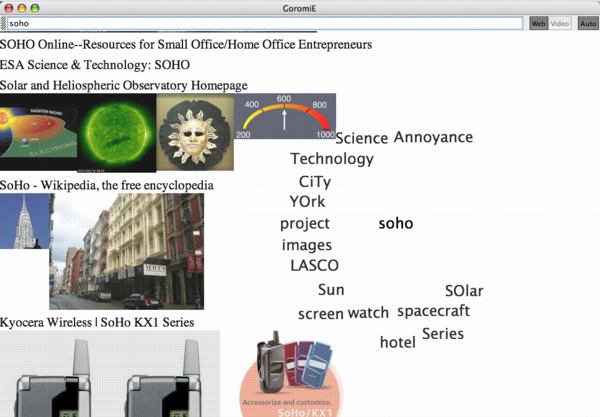 Goromi is the interface to the information on the Web.

Goromi is free, but please use it at your own risk. I, Goro Otsubo, can not be held responsible, in any way , for lost work units or for any incidental, indirect, or consequential damages.

If you have any comments or suggestion, please send e-mail to
Java: Java 1.5 (or 5.0) or later is required to run Goromi. If it is not installed download and install from Sun Java site
For Windows users: Please install Quicktime.
Download goromi and expand it.
Launch goromi.jar (In Windows and Mac, just double click "goromi.jar" icon. Or, move to the directory which has goromi.jar, and input "java -jar goromi.jar"

Initialize (minimum setting)


Click "Menu". Select "Pref" from menu. Dialog will be opend.
If necessary, check "Use Proxy" then input host name ,and port number.
Click "OK"

How to use


Input any keyword in the text box above. Hit "Return key". Input keyword is shown at the center of display, and starts blinking.
Wait while, and extracted keywords will be dispalyed. The message "Getting Pages.." is shown.
After while, images in the search result pages are shown.

By clicking key word, you can expand the search. Keyword is randomly selected if you clicked blank area.
Goromi is tested on ..
Mac OS Ver10.4

Windows-XP
Note